Security gates for commercial and residential customers
We offer a friendly and professional start to finish service on all installations meaning you will have peace of mind making the investment into your property. All bespoke made in South Devon by skilled professionals.
Security and privacy are often the main reasons for purchasing gates, with many customers looking to restrict or control entry and monitor exactly who is on their property at any one time, while also adding value to the property.
Depending on your specific requirements we offer a range of security systems, ranging from intercom systems to access control systems, making sure you're in complete control.
Wooden Gates
Automated Gates co, can offer you wooden gates suitable for a whole range of residential and commercial applications and styles. We can supply sliding Wooden gates or swing gates, which may be more beneficial on smaller entrances, where there is less space for the sliding gate to run back. Our Timber Gates are individually made to your own specification, allowing you to choose the height, width and style.
We offer numerous safety features as standard, our automated gates include safety locks, force control, photo cells, and auto reverse in the case of an obstruction. We understand that keeping your loved ones (including four legged friends), visitors to your business or employees safe is of the utmost and importance so get in touch and we can talk this through with you.
Steel Gates
Our Steel gates are lower maintenance than other styles of Gates, they do not warp and do not require annual painting or staining as wooden Gates may, making them more durable and longer lasting. There are a huge selection of styles, designs and infill bars available to choose from and of course, they are made to any size you may require.
Other than the practical features of family/business security, automated gates make a great statement and are considered a desirable asset that can increase property value. For more information, or to arrange a site visit, contact a member of our team today.
Aluminium Gates
Our aluminium automated gates are precision-engineered to the highest standards. Our experienced team of professionals will expertly measure, supply and fit your gate, ensuring that it is securely installed and provides maximum protection for your property. With our range of colours and finishes available, you can design a gate that perfectly complements the look of your home.
We understand how important it is to have a secure gate that can be depended on. That's why we use only the finest materials, carefully selected for strength and durability. Our automated gates are designed with care and precision to ensure quality craftsmanship and provide you with unbeatable security.
Whether you're looking for a traditional style or something more modern, our aluminium gates offer a range of styles and designs to suit your individual needs. All our gates are built to withstand the elements and they come with a choice of gate automation systems, allowing you to control access without having to leave your car.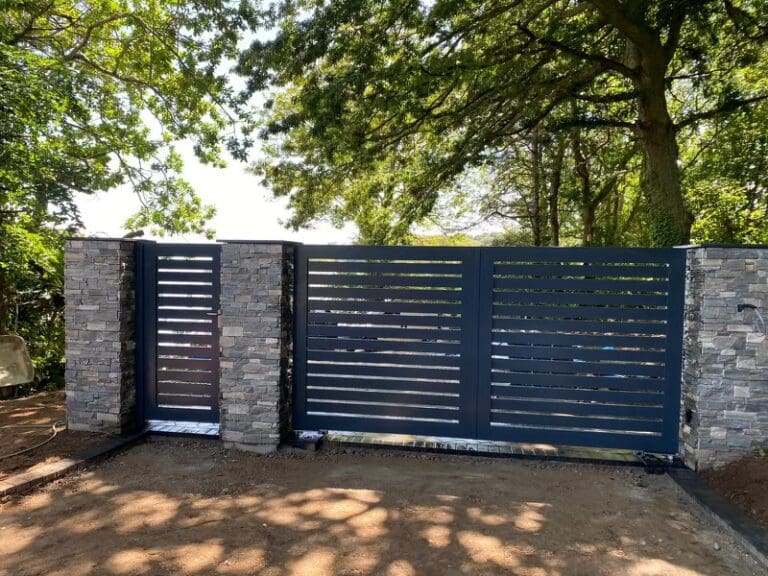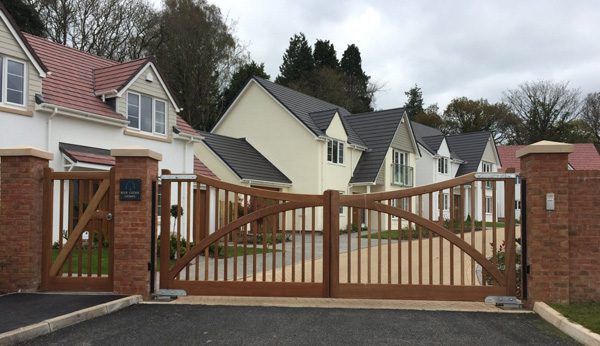 Swing Gates
Automated Gates co, can offer you swing gates either in Metal or as wooden gates, you can choose single or double leaf swing and have them timber clad for greater privacy. We can always carry out a site survey to establish if there is enough space for the gates to swing open or if the ground is flat enough to allow clearance.
Supplied and fitted to meet your specific needs, Automated Gate Co. work to ensure our gates are convenient for you as well as safe.
Sliding Gates
Sliding Gates, offer a high level of security as well as utilizing the full width of the entrance, which can be important on smaller openings. Once again, they are offered in Metal or Wood, depending upon the privacy required and the durability needed. Sliding Gates offer the best protection against unwanted intrusion and are built to your own personal requirements and specifications.
Automated Gates Co. are a local family run company with over 25 years' experience in the automated gate business. We carry out quality, fully guaranteed work for your private residence or commercial property and use a variety of materials to suit all budgets. Visit our gallery page to see just what we can do for you. Based in Torquay we are happy to travel to customers across Devon.
Automation
We offer a range of automation from sliding gate to underground or over-ground motors, barriers and bollards. All our installations are treated on an individual basis so security and safety measures will differ from one to another, but rest assured safety is our priority all installations.
Bollards
If you need to control vehicle access to your property, you may wish to consider automatic rising bollards. Once installed they are unobtrusive and can easily be lowered when access is required, while providing a deterrent to unwanted vehicles.
CCTV
Automated Gates co. can offer Intercom and security system installations to ensure you feel secure. We are also able to offer a range of CCTV systems along with the latest range of intercoms. Our range of Surveillance equipment is manufactured by Hikvision, which is one of the largest distributors of CCTV in the world.
Not only is Hikvision cost effective it is extremely small and  obtrusive once installed. We offer a range of monitors and Cameras, that can be controlled from your smart phone to ensure your property is properly secure at all times.

We offer a free- no obligation- site survey to discuss your installation. One of our Sales team and engineer will visit your price to explain the various options and prices available.
Arrange a free home survey
Looking for an automated gate for your home or commercial property in Torquay? Automated Gate Co. offer a free on-site consultation without obligation.
Call 01803 616 858